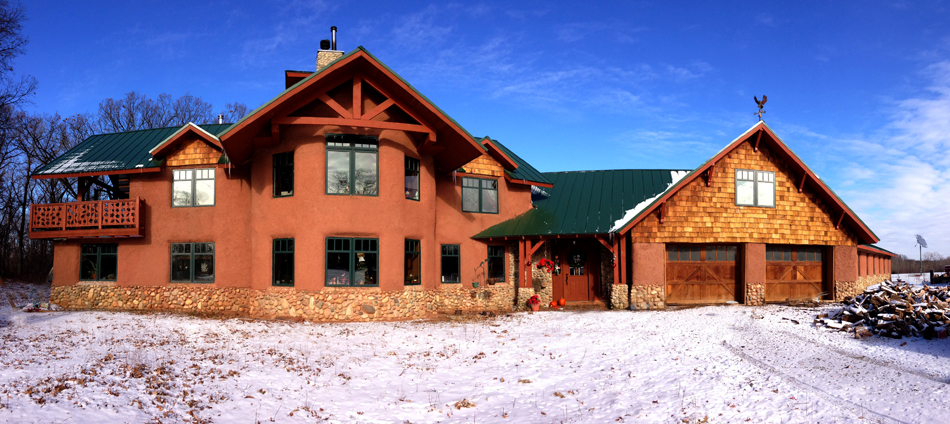 Our home is the pride and joy of my family. I spent seven years researching natural building techniques while mindfully observing and reflecting on our own patterns of behavior and space use. The house uses low energy materials, is off the power grid and is highly efficient. We broke ground in 2008 and got our residency permit in 2010. My family and I completed the vast majority of the work on our home.
A central goal was to find beauty in the basic, local materials of timber, stone, soil and straw. My work and travel in sub-Saharan Africa sparked an interest in vernacular architecture that also affected the home's design. The home is under the US average home size at 2,200 square feet. It uses a 3KW tracking photovoltaic array to charge 60 golf cart batteries to provide electricity. My family carefully monitors our electricity use knowing that it is possible to "run out" just as we can run out of bread or milk. Depending on the season, we can use a lot of electricity or very little – ranging from 4 -19 KWH per day. This is still well below the American home's average of 36 KWH per day. The house is heated with wood using a wood gasifying boiler for domestic hot water and radiant floor heat as well as a high efficiency fireplace and a wood burning cookstove.
The house adheres to many permaculture design principles and is sited very carefully on our 40 acre farm. We use the sun to make heat, hot water and all of our electricity – as well as to grow vegetables and grass for our livestock. The home is passive solar and super-insulated with walls that approach two feet thick. The vast majority of the house is built using low energy lithospheric and biospheric materials sourced within 10 miles of the home. All of the lumber for the timberframe, floors, doors, cabinets, soffits and trim was milled on site and air dried. The home uses a summer kitchen and has several large porches for seasonal use. A large workshop has been carefully planned and uses heavy equipment (3.5 HP / 240v motors) that most literature says is impossible to run off the grid! The three- bedroom house has a dumbwaiter, root cellar, water cistern, secret passage and a television that rotates in a wall.
My wife completed more than sixty tons of stonework using field stones collected from our fields. Twelve hundred bales of wheat straw were baled at our neighbor's farm for us to use. I have milled more than 30,000 board feet of lumber for the project – mostly using salvaged ash logs that were killed by the invasive Emerald Ash Borer. Forty tons of adobe have been mixed by hand and carefully plastered onto the walls of the building
Coming soon: www.familybuilthome.com that fully chronicles the story of our home.
I have consulted with numerous individuals about their own home designs as well as how to complete specific aspects of their construction. This includes how to best work with local building authorities for the inspection and approval process.
Please contact me at jtrumpey@jtrumpey.com if you would like me to consult on your project.