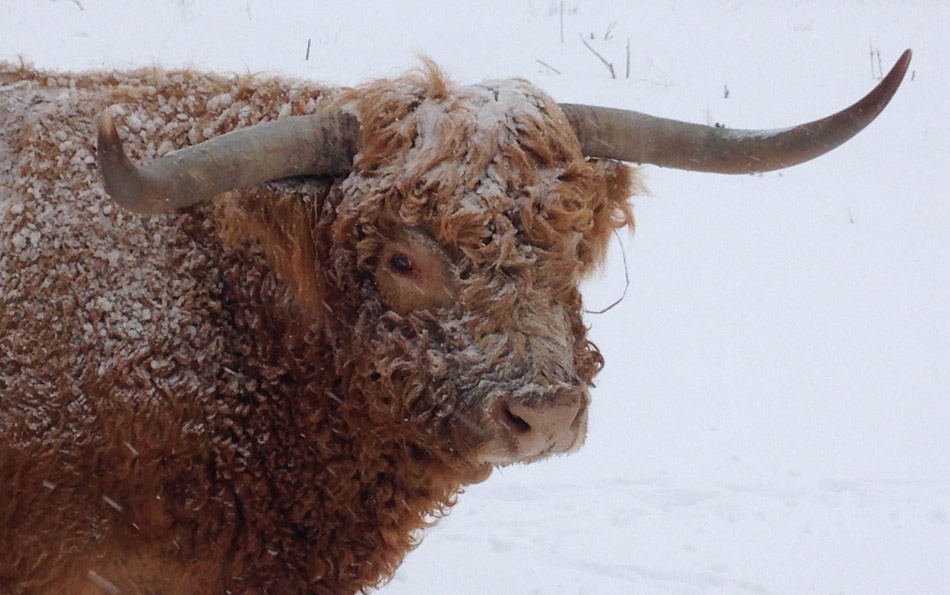 My wife and I started Sandy Acres in 1992 in Willow Springs North Carolina with a small garden, 25 chickens, 8 rabbits and 3 sheep. We embarked on a journey to achieve the goals of producing one half of all our food, working to preserve the genetics of several rare livestock breeds, and designing the specifics of a farmstead infrastructure that supported our plans. More than twenty years later, even though we have achieved these goals, we continue to learn from, love and be beat up by the farm in new ways every day. The school of hard knocks is always in session! It is a very creative and rewarding enterprise.
The farm is now on 40 acres in Grass Lake, Michigan. The flock of Jacob Sheep has grown to an annual average of about 50, there are usually half a dozen Highland Cattle, a couple of Mulefoot Pigs, a dozen Giant American Chinchilla Rabbits, 30 chickens, Tennessee Fainting goats and a llama as well as Rough Collies, cats and my wife's beloved Puggle.
Twenty-three acres of fenced pasture maintains the herd and flock through the growing season, and we typically butcher animals in the fall and winter. We sell meat and eggs primarily to friends and family – but ask us if we have surplus as we often do. We are not certified organic but do not use chemical fertilizers, pesticides or herbicides on the farm. All of our animals are reared on pasture and are grass fed.
We manage a woodlot for firewood and hunting deer and turkeys. We have a young orchard that is very diverse and starting to produce. Our vegetable garden consists of 48 raised 4'x8' beds that my wife meticulously plans, plants and cares for. Each summer she feeds us well from the bounty and cans anywhere between 500 and 800 jars of food for off-season use. She is in her element being a shepherdess and gardener.
I teach courses on Sustainable Food System Design and often host students at the farm. Most have no experience with food production and are anxious to get their hands dirty and learn. We are constantly encouraged by the growing numbers of young people telling us that they want to "get back to the land" and work in similar ways that we have.
We are always interested in helping others get established with rare breeds and are ready to share our experience as well as sell livestock.
If you are interested in livestock, wool, eggs or meat purchases, please contact me at jtrumpey@jtrumpey.com