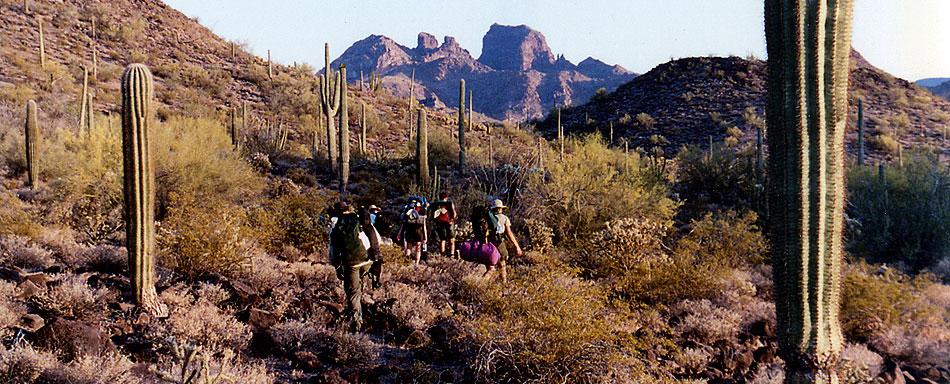 Eco-Explorers is a field-based course I have offered for 16 years. It is always the highlight of my teaching and I have gotten quite proficient at handling a group of 12-18 students out in the wilds on a 24/7 basis for 3-5 weeks at a time. It is experiential, engaged heads, hearts and hands education at its best – outside and around a campfire!
The program began as an observational field sketching course designed to get Science Illustration majors into the out-of-doors observing and experiencing nature first hand. The course has always involved camping, physical challenges, cooking with each other, service learning and community building. Over the years the program has grown and changed its focus slightly. For many years we collaborated with Pinckney Community Schools using distant learning to compare ecosystems and use observational creative experiences to teach life science. More recently, the course has become focused on sustainable design. I have fostered a partnership with a rural Maasai community in Tanzania where students have been living and working with Maasai families to build improved cookstoves. The stoves are very efficient and reduce firewood use, reduce air pollution and cook faster. Students still camp, explore, and experience Nature first hand – only in Tanzania do they get to experience safari observations in the Serengeti!
The intensive nature of the course always creates close relationships in the groups and I am very happy that many students have stayed in close contact with me over the years. The international iterations of the course have even helped students grow confidence and intercultural competencies at light speed. I have even had a few decide on service careers with the Peace Corps.
Summary of EcoExplorers Courses:
2014 Tanzania
2013 Tanzania
2011 Kenya
2011 Four Corners
2010 Madagascar
2008 Big Bend National Park
2007 Ethiopia
2006 Yellowstone National Park
2004 Four Corners
2003 Southern Africa
2002 Everglades National Park
2001 Sonoran Desert – Organ Pipe Cactus National Monument
2000 Costa Rica Cloud and Rain Forests
1999 Outer Banks of North Carolina
1998 New Mexico Native American Sites
1997 Northern Michigan
General Data:
– 90,000+ miles traveled
– 308 days in the field
– 213 field participants (mostly undergraduates)
– 2,500+ Michigan school children participants
– 11 countries visited
– 17 World Heritage Sites visited
– 23 National Parks, National Monuments, National Wildlife Refuges, National Sea Shores, National Lake Shore, and Tribal Parks visited
– 19 State Parks and Preserves visited
– 38+ Ecosystems explored
– 1,500+ species of flora and fauna identified
Please visit this blog for an idea about EcoExplorers Tanzania 2013:
http://ecoexplorerstanzania.tumblr.com/
This site is out of date but does link you to some of the previous websites that students have built over the years:
http://www.art-design.umich.edu/ecoexplorers